Will a 4-day week be the norm in 10 years' time?
A very recent CIPD survey has found that over a third of organisations who responded considered that a 4-day week was attainable within the next decade. Most of the respondents reported that better use of technology and generally working more efficiently were the keys to achieving this.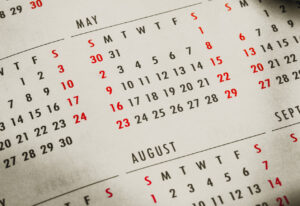 All of this comes off the back of a major UK trial earlier this year, when 3,330 workers across 70 employers trialled a 4-day week without losing any pay. Other counties, such as Iceland, have already reported that similar trials have been successful.
The main benefits of a 4-day week would seem to be:
Improving the wellbeing and happiness of staff.
Helping recruitment and retention of staff.
Being able to save cost on property space, energy and other costs.
The main challenges for employers however are:
Squeezing work into 4 days is not for everyone and can place some staff under pressure.
Will staff be able to achieve the same amount of work in just 4 days?
How will employers manage customers and clients who want work done on the 5th day when a member of staff isn't in?
The logistics of managing a timetable / rota of who works when.
Inevitably some types of work just need 5-day coverage.
In view of these challenges, legally, there are risks for employers in moving down to a 4-day week. Employers are under a legal duty to look after the health and safety of their staff, so anything that puts staff under more pressure to complete their work quicker or in less time needs to be treated with caution. With time, we're sure employers will develop their own safeguards to solve this problem. There's also no doubt that, with technology improving, the possibilities of efficiencies in staff working practices will develop.
Our predication therefore is that 4-day weeks will be common in 10 years' time. However, the tricker issue will be around pay and that will be the question employers will be asking themselves: should staff get 5 days' pay for 4 days' pay? Watch this space!
If you need any help or advice on any of the above, please contact employment solicitor Owen John on ojohn@darwingray.com / 02920 829 118 for a free initial chat to see how we can help you.