5 Alternative UK Holiday Ideas in 2021
Once in a while, we all need to experience some time off from the usual routine of being at home, going to work, or attending to business. We fancy fresh environments, meeting new people, and learning new cultures. In the past, going on holiday automatically translated to flying abroad or just traveling miles and miles away from home.
However, in the modern age, there has been a revolution in holiday destinations, how far people travel and the activities are done for relaxation and enjoyment. More people are now opting to be on holiday within their localities. The idea of sticking around the home might be assumed to be boring.
On the contrary, there are some very quirky and breathtaking holiday ideas in the UK. If you crave a distinctive and unforgettable holiday, we have you covered. We have compiled a listing of the five finest eccentric holiday alternatives, with atypical places of residence.
Holiday in a Shepherd's Hut
A shepherd's hut is portable and skillfully hand-made by craftsmen. The exterior might have a vintage appearance but the interior is modern, with elegant and fashionable finishing. Every shepherd's hut comes in varying sizes and different features, that are dependent on the client's specific needs.
Shepherd's huts are versatile, with the interior spaces flexible enough to be used for diverse purposes. These huts can be used as a studio, playing room for children, glamping hut, or can serve as supplementary accommodation.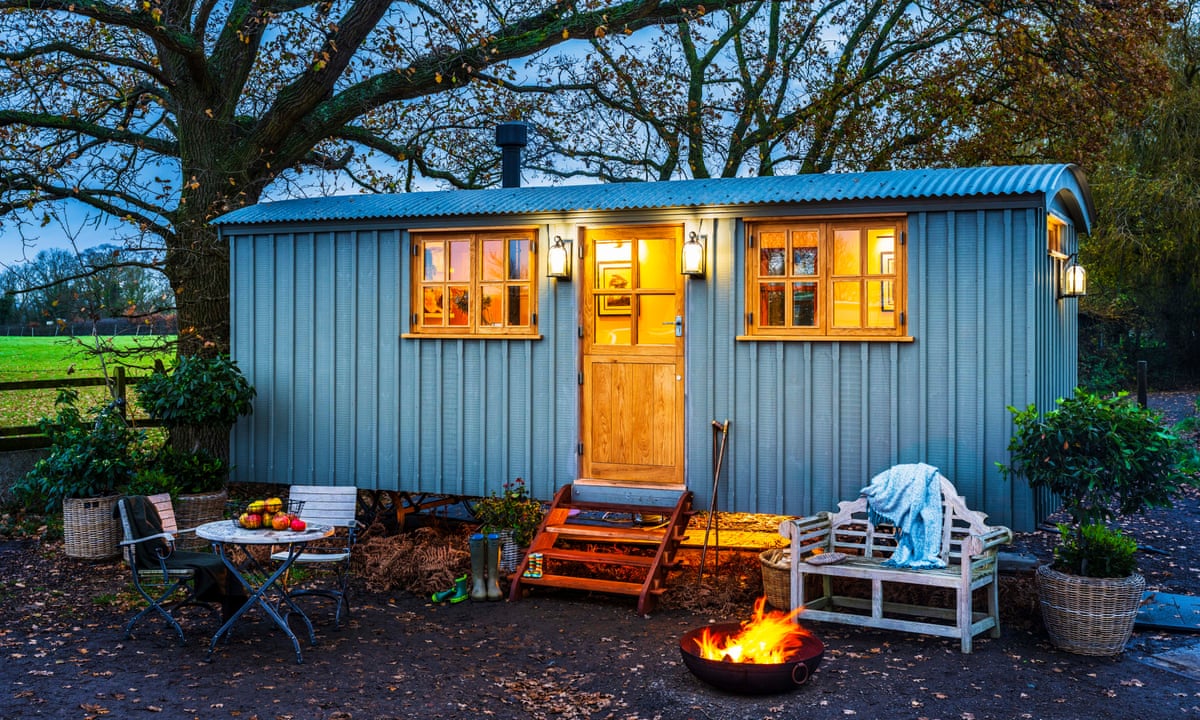 In addition to this, a shepherd's huts can be positioned at any location of choice. This includes open fields, gardens, or just near the lake or river. This is a very unusual but exciting place to spend your holiday. All you have to do is place an order and have it delivered by a trailer.
For more information on shepherd's hut holidaying and how to purchase your very own hut, check out The Shepherd's Hut Company. The range of huts they have available for purchase can be put to a wide range of uses – Garden Room, Painter's Studio, Summer House, Home Office Space, Children's Playroom, additional accommodation, or even living accommodation with their largest model.
Wild Camping
During summer or on sunny months, wild camping serves as an ideal alternative to spending time in hotels. Camping gives a close feel of how beautiful nature is. It is one of the most affordable ways of enjoying a holiday.
All that is needed is a tent, a few supplies, and a small fee charged for setting up a tent on the land you are occupying. In the course of your stay, you can take walks on nature trails and if there is a river or lake nearby, some fishing activities would be enjoyable.
At night, you can build an open fire to keep you warm, roast some marshmallows, and scare away animals if necessary. This is also a perfect setting for storytelling, dancing to music, or just watching the stars silently, before heading back in to catch some sleep.
Holiday Parks
There is a wide variety of amenities available in UK holiday parks, all of which you desire whenever you are on holiday. In holiday parks, caravans for hire are availed and on top of this, there is plenty to enjoy. This includes entertainment areas, swimming pools, bars, and restaurants, and designated areas for children to play.
Holiday parks are a distinctive place to spend your holiday and have a relaxing time alone or with a group of people such as family or friends. Costs for spending time at these holiday parks are quite pocket-friendly. The prices are influenced by the features available within the caravan or those around the parks.
If the caravan has fancy interiors and the park is also located close to a water body or is beachfront, the price will be slightly higher than holiday parks that lack such features. Even this being the case, the prices are very fair and reasonable. It is all worthwhile.
Motor Homes
Freedom to move around while on a holiday is such a huge perk. The main motivation behind going on a holiday is to break the normal routine of doing the same thing and being in the same environment day in, day out. Therefore, the ideal solution to this is hiring a motor home.
There is barely any restriction while on a motor home. Since you are not confined in a particular setting, you can tour around all your favorite destinations and get to explore fresh environments. Inside these motor homes are a variety of luxuries at your disposal.
While renting a motor home, you select the one you like, depending on the number of people who will be on board and the type of vehicle you prefer driving around. They come in different makes, different sizes, and varying interior facilities.
Treehouses
Is there a better way of feeling on top of the world, other than having your holiday in a treehouse? It is easy to assume that being in a treehouse is an experience that is only desired by children.
However, for anyone young at heart or adventurous, being on holiday in a treehouse is a mind-blowing experience. Draping from treetops while leaf-covered branches form a canopy over you is a dreamlike escapade. Think of all the stunning views and the serenity you get to enjoy while at the treehouse.
Treehouses come bearing different features. They are of different sizes, located in varying kinds of settings and divergent designs. Some are modern while others have a rusty make. Consequently, you have the freedom to select the one that is in line with your preference.
Having your holiday while in a shepherd's hut, camping tent, holiday park, motor home or treehouse is worthwhile. To say the least, it is a guarantee that your time off will be momentous.